History on Team Inferno
We started in February 2002 and progressing along. We started with 3 members and then got more and will be recruiting more soon. We are a rookie paintball team and are very well equiped. We hope to do good in our first tourney!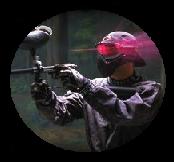 Updates of What's Coming Soon
We will be entering the Panther Paintball Halloween Havoc Paintball Tourney and be practicing there in the summer!

Ok here is some good info, we have got us some team jerseys. Chris's dad that lives in cali will provide us with team jerseys cause he loves paintball and what we are doing. Also i got us a field to practice on. It's my property in North Van, 5 acres of land (really 6 but problems with land owning) and we can practice in the summer!